Model A11 Pro ETH (2000Mh) from Innosilicon mining EtHash algorithm with a maximum hashrate of 2Gh/s for a power consumption of 2500W.
Additional information
| | |
| --- | --- |
| Condition | New |
| Warranty | 180 days |
| PSU | Comes with PSU |
| Minable Coins | Ethereum, Ethereum Classic, Musicoin, Ubiq |
Innosilicon A11 Pro ETH 2000Mh specifications Buy Innosilicon A11 Pro ETH 2000Mh
Manufacturer Innosilicon
Model A11 Pro ETH (2000Mh)
Also known as A11 Pro ETHMiner 8G 2000Mh
Release July 2021
Noise level 75db
Power 2500W
Voltage 12V
Interface Ethernet
Memory 8Gb
Temperature 5 – 45 °C
Humidity 5 – 95 %
Alternatively you can check for Innosilicon A11 ETH 2000Mh specs on ASICminervalue.com
My Miner Shop Service
PSU Included & Free Shipping.
Support 24/7.
Order processed within 3-5 working days maximum after confirmation of payment.
Delivered worldwide via DHL Express.
Important before ordering Buy Innosilicon A11 Pro ETH 2000Mh
Personalization, configuration, and set-up are included in all online crypto miner purchases.
If you are a beginner in mining, please download our beginners-guide from our homepage.
Before ordering, please read our Warranty, Privacy Policy and Terms Of Use Agreement.
The price of miners can vary from day to day depending on market behavior.
Please never forget that regardless of the current performance of miners, mining remains a risky activity.
Payment Methods
Methods of payment: Bank Transfer, and Cryptocurrency, to see all the payment methods please visit: Payment Methods.
Delivery methods
Delivery worldwide by DHL.
Delivery with signature required.
Support
Digital Currency Miners team will be happy to assist you with the handling of your equipment by customer support.
All our support resources are available to this email : sales@digitalcurrency-miners.com
Digital Currency Miners is a shop of enthusiasts of cryptocurrencies with a team that has been mining for nearly 4 years. We offer you the best ASIC Miners currently on the market.
We offer support in the use of your equipment.
support in the use of your equipment.
| | |
| --- | --- |
| Model Number | A11 Pro |
| Brand Name | Innosilicon |
| Origin | China |
| Small Orders | Accepted |
Key Specifications/ Special Features:
Innosilicon A11 Pro
Algorithm: EtHash
Hashrate: 1500mh
Power Consumption: 2300W±10%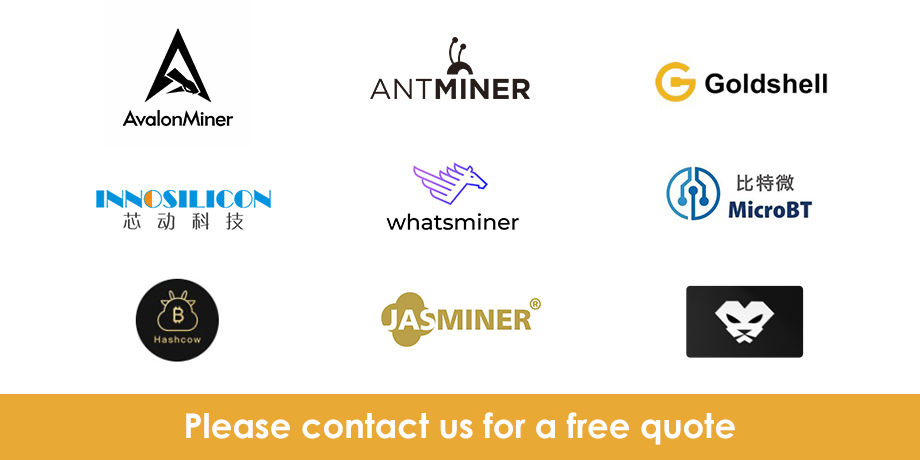 Ethereum Miner Machine , Innosilicon A11 Pro 8gb 2000mh 1500mh ETH Master
| | |
| --- | --- |
| Product Name | Innosilicon a11 1500m |
| Model | A11 Pro ETH (1500Mh) |
| Hashrate | 1500m |
| Algorithm | EtHash |
| Top Coin | Ethereum |
| Network connection | Ethernet |
| Size | 592.6*288*400mm |
| Weight | 18kg |
| Noise level | 75dB |
| Fan(s) | 4 |
| Power Consumption | 2350W |
| Voltage | 12V |
| Interface | Ethernet |
| Temperature | 5 °C- 45 °C |
| Humidity | 5 % – 95 % |
Algorithm of the A11 Pro ETHMiner 1500Mh
It comes with the Ethash algorithm, which is perfect for mining Ethereum. Miners know for a fact that Ethereum is the next big Crypto coin after Bitcoin. When the market favors this coin, mining it will be highly profitable.
The algorithm has faults as it's not as secure as other hashing algorithms, namely, SHA-256. It does not stop the algorithm from mining at its best as it provides ample results. The performance of this miner is outstanding, to say the least.
Efficiency of the ETHMiner 1500Mh Innosilicon A11 Pro
With an efficiency of 1.25j/Mh, this miner is definitely packing a punch. The high-efficiency level is as a result of the maximum power consumption. It has a maximum power consumption of 2350W, which makes the difference.
Mining equipment with high power will have high efficiency and thus enhances performance. Thanks to the high efficiency, the miner will deliver on its promise of mining profitable Ethereum.
Hash Rate of A11 Pro ETHMiner 1500 Mh
1.5Gh/s is the hash rate that comes with this miner. It's one of the highest hash rates when it comes to Ethash miners. The miner is a game-changer as it delivers in terms of quality features. This manufacturer has made it possible to deliver a miner that has the right mixture.
You get a miner that is an improved version of all Ethereum miners. It has one of the highest hash rates with the Ethash algorithm.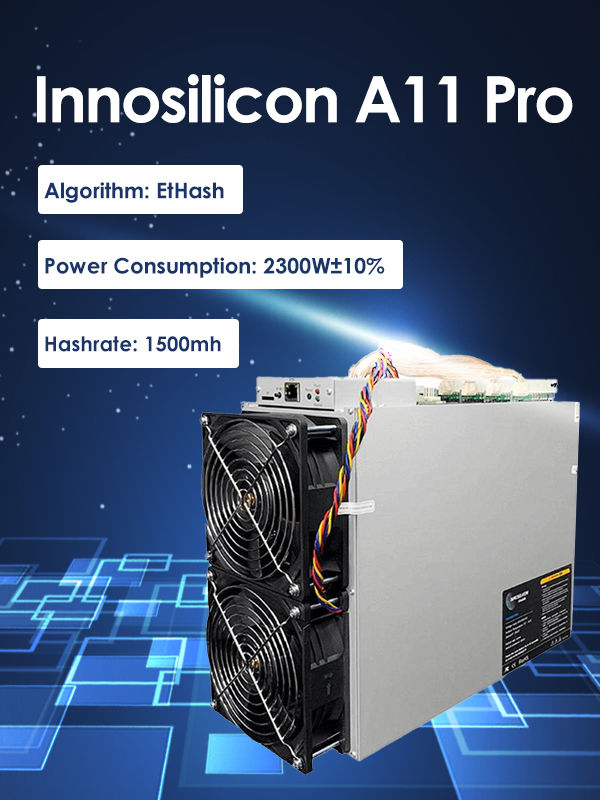 About Innosilicon A11 Pro ETH (1500Mh) Features, Specs, and Review
The Innosilicon A11 Pro ETH (1500Mh) is the only miner with a profit estimate of above $100. Nearly all Ethereum miners would love to get their hands on this unit. It uses the Ethernet interface and has a hash rate of 1.5Gh/s. The A11 Pro ETHMiner 8G 1500Mh comes with a maximum power consumption of 2350W.
Buy Innosilicon A11 Pro ETH 1500
There's a maximum voltage of 12v and a mining capability of over 10 highly profitable coins.
Buy Innosilicon A11 Pro ETH 1500 Mh
You get a miner with a memory of 8GB, one of the biggest in the industry. The Innosilicon manufacturer has made sure to increase the memory size. We don't have any details concerning the chip's name or size. There are already some mining pools that you can join with this miner.
Innosilicon A11 pro (2000Mh) of EtHash algorithm with hashing power of 2Gh/s at 2500W power consumption.
SPECIFICATIONS
| | |
| --- | --- |
| Manufacturer | Innosilicon |
| Model | A11 Pro ETH (2000Mh) |
| Also known as | A11 Pro ETHMiner 8G 2000Mh |
| Release | July 2021 |
| Noise level | 75db |
| Power | 2500W |
| Voltage | 12V |
| Interface | Ethernet |
| Memory | 8Gb |
| Temperature | 5 – 45 °C |
| Humidity | 5 – 95 % |
Processing and Shipping Time
1. In Stock models will be shipped in 48-72 hours from Asicmarketplace Hong Kong warehouse.
2. Used and Second hand Miners will be shipped in 5-7 days.
3. We test all used miners before shipping.
4. All miners will be shipped by DHL, FEDEX, UPS, EMS etc.
5. We will provide you tracking number in 24-48 hours once goods has shipped from our warehouse.
6. Usually shipment takes 5-10 days to reach the destination to anywhere in the world from Hong Kong by express shipping.
7. We will notify you all updates about your order on an email.
1. All brand new miners has 180 days of Manufacturer warranty.
2. Our technical team is available 24/7 to help you out with any kind of problem through team viewer.
1. We provide DDP (door to door) service to USA, Germany, Belgium, Luxembourg, Netherlands, Denmark, Czech Republic, Poland, Austria, Ireland, Portugal, Sweden, Spain, Russia, Vietnam, Kazakhstan, UAE, Malaysia, Thailand and some other countries. Buy Innosilicon A11 Pro ETH 2000Mh
2. We handle customs and Door to Door Operation in buyer's country so buyer don't need to pay any import duties or customs charges in DDP service.
3. For DDP service buyer need to request manually: sales@asicmarketplace.com
4. Exempt above DDP country we help you to reduce your tax by shipping with a Lower Invoice.
1. All miner includes suitable PSU and original company packaging.
2. We put "FRAGILE" stickers on all side of boxes so it cannot be broken easily in transportation.
Innosilicon A11 Pro ETH miner with 8G memory is an upgraded version optimized for ETH mining, performing with a power-efficient hash rate of 2000MH/S at 2500W.
Hashrate:2000MH/s (±5%)
Power Consumption:2500W(±10%, on wall, with 93% efficiency PSU, 25℃ temperature)
Dimensions:(L)375mm*(W)146mm*(H)292mm
Net Weight:10.6Kg
Internet connection:Ethernet
Ambient Temperature:5°C to 45°C
Please note that they are new miners and after upgrading the machine may not be refurbished, if you expect a high-standard appearance, your discretion is strongly advised. Once the order is placed, it will be deemed as an acceptance.
Notice:
Please make sure your farm use proper cooling, dust filter and 10A AC cable to meet the proper operating condition requirements.
Humidity <75%, AC voltage 210~240V, Power supply AC input current 10A, dust <0.5 Mg/m3.
Shipping&Packaging. Buy Innosilicon A11 Pro ETH 2000Mh
1. Delivery time: Shipment will be made in 10 business days after full payment confirmation. First pay, first serve.
Notice: Due to the coronavirus disease, the logistics and transportation are affected to some extent. Delivery will be arranged based on actual situation, and shall be subjected to our official website.2. Please be aware: Innosilicon A11 Pro PSU is inclusive, and the PSU we provide is specially customized for our miners. Since customers require different types of plugs, the PSU does not contain 220V AC cables. You can order the standard IEC C14 AC power cable to use with the PSU from your local market.
3. Please write the recipient's name, contact information and address carefully. We will ship according to the information given to us. You will be responsible for any damages or losses caused by errors in the information.
4. We guarantee the safety of the goods until they are in the hands of the shipping carrier. Once the shipping carrier has accepted the goods, the ownership of them will be transferred to customers. Any damage or losses of the goods during transport and import customs clearance will be charged to the buyers.
Buy Innosilicon A11 Pro ETH 2000Mh
5. In order to increase the in-transit security of the high–value miner, we are implementing insurance fees with the shipping fees, starting from December 26th, 2017. We will use the company name (if not available, then the name of the buyer) as the insured party. Please make sure that the information is correct.
Warranty
All Innosilicon A11 Pro will be tested by factory before shipment and certified by Innosilicon. The post-sales service policy is as follows. After payment, your order will be processed immediately.
180 days parts warranty for any miners directly purchased from Innosilicon. If any problem, please leave an after-sales message on our message board. Our technical support team will get in touch with you ASAP.
Please don't send any machine or parts without contacting the technical support team first. Any loss or damage as a result of lack of contact will be the responsibility of the customer.
Buy Innosilicon A11 Pro ETH 2000Mh
The price of miners may be adjusted at any time without prior notice or price compensation to customers.
The warranty expires in the following cases:
Miner is demolished, privately altered or component replacement by customers;
Damage caused by lightning, voltage surges and poor quality power supply.
Circuit boards and components damaged by water, exposed to moisture or corroded;
The circuit board or the chip is completely burned;
Excessive overclocking in an overheating environment;
If above case happens, services of your miner maintenance will be charged. For the specific procedures, please refer to the after-sales process.
Note: Please ensure your miners be taken care in a proper farm with cooling and dust filter conditions. Warranty expires if you overclock miners or running miners at excessive heat or dust conditions beyond our target range.
a11 pro eth, innosilicon a11 pro eth, a11 pro eth price, a11 pro eth 2000mh, innosilicon a11 pro 8gb eth miner, innosilicon a11 pro eth miner, innosilicon a11 pro eth price, innosilicon a11 pro eth 2000mh, a11 pro eth cost, a11 pro eth miner, a11 pro eth for sale, a11 pro eth miner profitability, a11 pro eth 2000mh price, innosilicon a11 pro eth profitability, a11 pro eth miner price,
innosilicon a11 pro eth for sale, a11 pro eth profitability, innosilicon a11 pro eth miner price, innosilicon a11 pro 8gb 2000mh eth, a11 pro 2000mh 2500w eth, a11 pro eth 500mhs, innosilicon a11 pro 8gb eth, model a11 pro eth, asic a11 pro eth, asic innosilicon a11 pro eth 2000 mh/s, innosilicon a11 pro eth buy,
a11 pro eth 2000mh/s, buy a11 pro eth, دستگاه ماینر اینوسیلیکون a11 pro eth, a11 pro eth miner 2000mh price, a11 pro eth buy, innosilicon a11 pro eth 2000mh/s, innosilicon a11 pro eth miner profitability, a11 pro eth miner 2000mh, دستگاه ماینر اینوسیلیکون a11 pro eth 2000mh/s, buy innosilicon a11 pro eth, eth a11 pro, innosilicon a11 pro eth 2000mh price, a11 pro eth innosilicon, a11 pro eth 1500mh